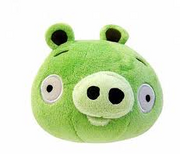 Character(s)
Edit
The regular pig has appeared in every episode. There are several of them that appear as the 3 different types in the show: background character, normal character and as a plush. These pigs are singled out from the rest, due to that they don't wear an accesorie. Only The Pig with a Lisp is hard to tell, due to that he looks normal and speaks differently. The normal pigs serve as King Pig guards, becuase this word is often used.
Name: Pigs
Family: Unknown, but other Pigs
Best freind: King Pig(possibly)
Enemys: The Birds
Likes: Eggs,(one may like Pink bow)
Dislikes: King pig shouting at and abusing them (displayed in King pigs day off when a pig says "i know, right? that means no more yelling no more punching no more kicking no more....wait, what else does he do?" chef cochon: "torture us?" pig: "no more torturing! we get to party!")
Ad blocker interference detected!
Wikia is a free-to-use site that makes money from advertising. We have a modified experience for viewers using ad blockers

Wikia is not accessible if you've made further modifications. Remove the custom ad blocker rule(s) and the page will load as expected.