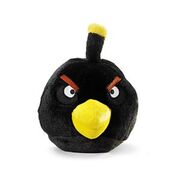 He is a bird. He explodes when shot. Black bird seems to be friends with red bird and to get in fights with Green Bird (Big Brother Bird joins the fight in "Moving Out" episode). He got a gun for christmas from green bird as he loves guns.
Character
Edit
He loves guns, shooting, and explosions. However, he has a good heart and cares for his family.
A black bird, with the black fur color, the fuse, beak, no tail. He has black eyes, brown eyebrows, and the black rings under his eyes.
Ad blocker interference detected!
Wikia is a free-to-use site that makes money from advertising. We have a modified experience for viewers using ad blockers

Wikia is not accessible if you've made further modifications. Remove the custom ad blocker rule(s) and the page will load as expected.