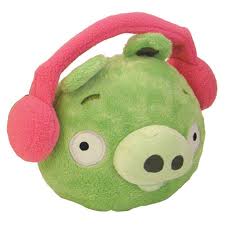 Earmuffs Pig is a pig who appeared alongside King Pig and the other pigs in the episode Snow Day.
In Snow Day, Earmuffs Pig gets into a fight with King Pig after he and Chef Cochon make fun of him because he was wearing earmuffs. Earmuffs Pig said he was going to tell his mom, so King Pig threw a giant snowball at him. However, Earmuffs Pig quickly revived and threw a snowball back at King Pig. Then King Pig buried him in the snow.
Earmuffs Pig then appeared for a brief moment in the second part of Snow Day. He has not made a apperance in any other episodes since or before Snow Day.
Ad blocker interference detected!
Wikia is a free-to-use site that makes money from advertising. We have a modified experience for viewers using ad blockers

Wikia is not accessible if you've made further modifications. Remove the custom ad blocker rule(s) and the page will load as expected.