Grandpa Red Bird is Red Bird's Grandfather from Angry Birds Craptastic Adventures. He is protrayed as an annoying bird who likes to tell boring stories all the time to his grandson (The Red Bird) and his friends (Yellow Bird, Black Bird, Green Bird, etc.). Normally, he will do actions such as, tell birds he will poop on them, or sit on them, if they interrupt Grandpa Red Bird's stories, which normally consist of fishing or taking large poops. Which he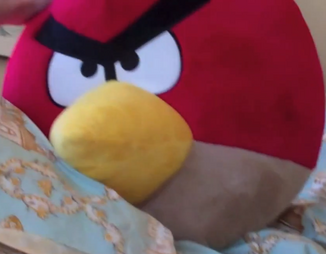 (Grandpa Red Bird) calls "fascinating".
Appearence In Show
His first (and one of only two) appearence was in the eighth episode of Angry Birds Craptastic Adventures. He appeared when Red Bird mentioned that they are not going to be sleeping at his Grandpa's house (or in this case Grandpa Red Bird's house). The show reverts to Grandpa's first appearence, in which in a flashback, he is starting to tell his first story about going fishing. Then the Yellow Bird proceeds to tell him to shut up in which Grandpa Red Bird tells him to shut up or else he will poop on him. Grandpa Red Bird's second appearence is when the flashback ends and Grandpa Red Bird ends up getting into the birds house because 'The window was open'. He then proceeds to sit on Red Bird because Red Bird told Grandpa Red Bird to leave. Then Yellow Bird explains how they need to sleep at the pigs house. Then Grandpa Red Bird tells them that he is going to sleep at his house, but then walks up to Giant Red Bird (or Brother Bird, Terrance, etc.) and asks what his name is then says he is his grandfather, and then leaves not making another appearence in the show, until he appeares with green bird in What happens at night. He also appears in Baby Sitter and Studder's Game Show. His name is heard in Red Bird's Ilness when red bir is locked out.