King Pig (also known King Smooth Cheeks and Big Bacon) is the leader of the pigs, and wants the eggs. He gets a piece of crap every year for his birthday.But sometimes he gets revenge on the birds.
A green Pig, with the gold blue-pointed crown.
He is the only pig so far to have his name in an episode title, which is done in 3 episodes (1 short),which are King Pig's Nightmare, King Pig's Birthday, and King Pig's Day Off.
King Pig is the most short-tempered of the pigs.
In Regular Show (Fanon version), he serves as the 3rd leader and lord of the Empire.
In Angry Birds Toons, he is like a blob, similar to the design in the Freddie for A Day Short and the Bad Piggies Cinematic Trailer.
His dad maybe King mudbeard but Rovio says this is False.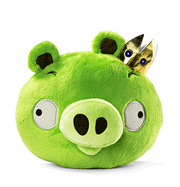 Ad blocker interference detected!
Wikia is a free-to-use site that makes money from advertising. We have a modified experience for viewers using ad blockers

Wikia is not accessible if you've made further modifications. Remove the custom ad blocker rule(s) and the page will load as expected.