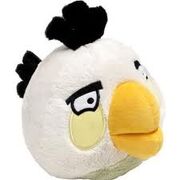 | White Bird | Real Name: Matilda |
| --- | --- |
| Likes | Taking Craps |
| Friends | The Birds |
| Enemies | The Pigs |
| Best Friend(s) | The Birds |
| Species | Chicken |
White Bird is one of the protaginists on the show Angry Birds Craptastic Adventures. Despite being considered a main character. She has very few lines of dialogue besides "I gotta go take a crap.".
White Bird is a male here, though the official Angry Birds canon states that White Bird is a female named Matilda, despite there being a previously established Female White Bird character. As a result, some fans say that that bird is Matilda, and the real White Bird is a boy named Matthew.