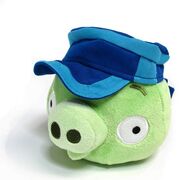 Postman Pig is one of the pigs in Angry Birds Craptastic Adventures, he is potrayed as lazy, but however told Red Bird in the Angry Birds Craptastic Movie that Shark Butt had joined forces with the Pigs and that he and the Pigs were going to defeat them. He is infact a Netural character, while one of the Pigs, Red Bird says he can Trust him. So he is loyal to both sides. He is the one of the only 2 pigs to do this.
A Green Pig with a postman hat and the bag with letters and newspapers (in newspapers there are written about the update of Angry Birds) on it.
Ad blocker interference detected!
Wikia is a free-to-use site that makes money from advertising. We have a modified experience for viewers using ad blockers

Wikia is not accessible if you've made further modifications. Remove the custom ad blocker rule(s) and the page will load as expected.